The first smartphone based on the new "Mango" edition of Microsoft's Windows Phone platform was unveiled on Wednesday in Tokyo.The phone is the first of several handsets due over the next few months, that Microsoft hopes will signal its return to the smartphone market as a serious player.If that wish sounds familiar, it is. This time last year the company was hoping the first version of the Windows Phone 7 would accomplish the same thing. But that didn't happen.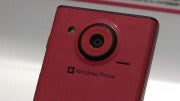 Despite getting several thousand applications and generally positive reviews, the new platform, which replaced Windows Mobile, was relegated to the sidelines by a rush of new Android devices and updates to Apple's iPhone.Far from boosting its market share, the introduction of the new operating system saw Microsoft lose share.
Microsoft captured 2.7 percent of the smartphone market during the first quarter of 2011, according to IDC. But a year earlier during the first quarter of 2010, its market share was 7.1 percent, the market research company said. In terms of handsets shipped, those with Windows Phone 7 or Windows Mobile fell from 3.9 million to 2.8 million phones in the two periods.
"We've gone from very small to....very small," quipped Microsoft CEO Steve Ballmer earlier this month on his company's lackluster performance.
Mango, officially Windows Phone 7.5, adds some 500 improvements to the Windows Phone 7 platform, according to the company. They include an e-mail "conversation view" that is said to make long e-mail discussions more efficient, a "threads" feature that brings together text, instant messages and Facebook chat, and Internet Explorer 9 for faster Web browsing.
"Mango is a substantial improvement bringing multi-tasking and other needed features," Al Hilwa, an analyst with IDC, wrote in an email. "This really begins to close the gap and in a couple of ways exceeds its competitors."
Some of those improvements can be seen in the new handset, the IS12T, which will be available in Japan only. Built by Fujitsu Toshiba Mobile Communications, the phone will be available in September or after. No price was disclosed.
The company is one of several partners Microsoft is working with on Mango handsets. Others include Taiwan's Acer and China's ZTE, but perhaps the most awaited phones will be from Nokia.
The Finnish cell phone maker threw its weight behind Windows Phone 7 earlier this year when it announced a wide ranging agreement with Microsoft to collaborate on future handsets and technologies.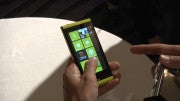 Nokia is losing market share to aggressive competitors, but it remains one of the world's largest manufacturers of smart phones, so it has the potential to help Microsoft shift the market.The launch of the phone came just hours after Microsoft signed off on the operating system and declared it ready to be installed in consumer handsets. That should mean additional phones will get launched in the coming weeks.
"Now everything rests on the diversity of the device portfolio that begins to emerge," said Hilwa.
Looking ahead, IDC predicts Windows-based smartphones will account for 20 percent of the market in 2015, making them second only to Android.
"Microsoft will claw its way to success and market share over the next couple of releases," the analyst said. "Its chances will be helped significantly with a successful Windows 8 release in 2012 which will create synergies between the PC and the phone in new ways."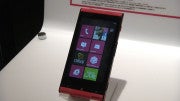 For Japanese consumers, the IS12T phone has a 3.7-inch screen and a 13.2 megapixel camera. Bluetooth and Wi-Fi are included in the CDMA-based phone. It weighs 113 grams and Fujitsu Toshiba says the battery should provide more than 11 days on standby and more than 6 hours of talk time.
The phone has 32GB of memory and is waterproof with an IPX5 rating.